Colin Kaepernick is a name that stands out in the world of sports when it comes to being an activist. Known for his profound activism against police brutality and racial injustice, the NFL star hasn't been on the turf since 2016. The free agent quarterback has been back into the world of controversies as the graphic novel, 'Change the Game', revealed some of the secrets about the former San Francisco 49ers quarterback. He publicly revealed his struggles while growing up. Furthermore, he didn't back from calling his childhood household 'problematic'. 
However, the UFC fighter, Jake Shields, wasn't pleased with what Kaepernick said about his adoptive parents. The UFC welterweight and middleweight contender took to Twitter and revealed his thoughts about the football star. 
Jake Shields bashes Colin Kaepernick
ADVERTISEMENT
Article continues below this ad
Kaepernick recently had a talk with CBS Chicago about his childhood. He claimed that he grew up in a problematic household. Furthermore, all the details were in his graphic novel, 'Change the Game'. The 'New York Post' took the liberty of sharing the news on Twitter and captioned, "Colin Kaepernick accuses white adoptive parents of 'problematic' upbringing, perpetuating racism". 
Somehow, Shields happened to come across the post and seemed pretty upset with the news. The mixed martial artist replied to the post, "What kinda sc*mbag publicly bashes their own parents." Furthermore, the UFC fighter reshared the post and wrote, "This is the thanks they get." 
DIVE DEEPER
Most of the fans also stood in support of the Shields. A fan wrote, "I feel bad for his parents. They don't deserve this." While another fan said, "I agree with you Jake" On top of that, some of the fans apparently understood the quarterback's point of view. 
Colin Kaepernick opens up about his upbringing
ADVERTISEMENT
Article continues below this ad
Kaepernick told CBS Chicago that although his parents loved him, there were some problematic things that the NFL player went through. He said, "I know my parents loved me, but there were still very problematic things that I went through. I think it was important to show, 'No, this can happen in your own home.' And how do we move forward collectively while addressing the racism that is being perpetuated."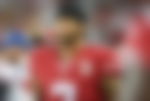 Furthermore, he revealed the reason he chose football over baseball. Without a doubt, the decision reflected his heart for activism against racial injustice. He said that he chose to play football because there were more black players in the NFL than in the MLB. Nevertheless, after being out of action since 2016, the quarterback eyed to get back into the turf. 
ADVERTISEMENT
Article continues below this ad
Watch this Story – UFC Orlando: Wonderboy breaks Kevin Holland's hand, RDA calls out Conor McGregor, Tai Tuivasa suffer
Do you agree with Shields' opinion of Kaepernick? Let us know in the comments down below.