Upcoming Games on five-game Road Trip (All time MST)
Tuesday, November 21: Tucson at Calgary, 7:00 p.m.
Wednesday November 22: Tucson at Calgary, 7:00 p.m.
Saturday November 25: Tucson at Henderson, 4:00 p.m.
Sunday November 26: Tucson at Henderson, 6:00 p.m.
Tuesday, November 28: Tucson at Ontario, 8:00 p.m.
Five-Game Trip For Thanksgiving:
After two quick games back at the TCC, the 7-5-0-1 Roadrunners head back onto the road for a five-game road trip with two games against the Calgary Wranglers and Henderson Silver Knights and a single game against the Ontario Reign. Tucson has yet to face the Wranglers or Silver Knights this season but are 1-1 against Ontario after splitting a series on the team's last road trip. Tucson has had major success on the road this season, having a 4-1 record and averaging three-goals per-game while allowing 2.2 goals per game.
Defenders of the PK:
Since Nov. 8 against the Ontario Reign, the Roadrunners have killed off 17-straight penalties and are 49-for-56 overall when down a man. Their 87.5% rate is fifth in the AHL and just two percentages down from the top team on the penalty kill that is the Wilkes-Barre/Scranton Penguins who own an 89.5% penalty kill. In the Western Conference, Tucson is tied with Ontario for best PK on the road this season at 90.5%.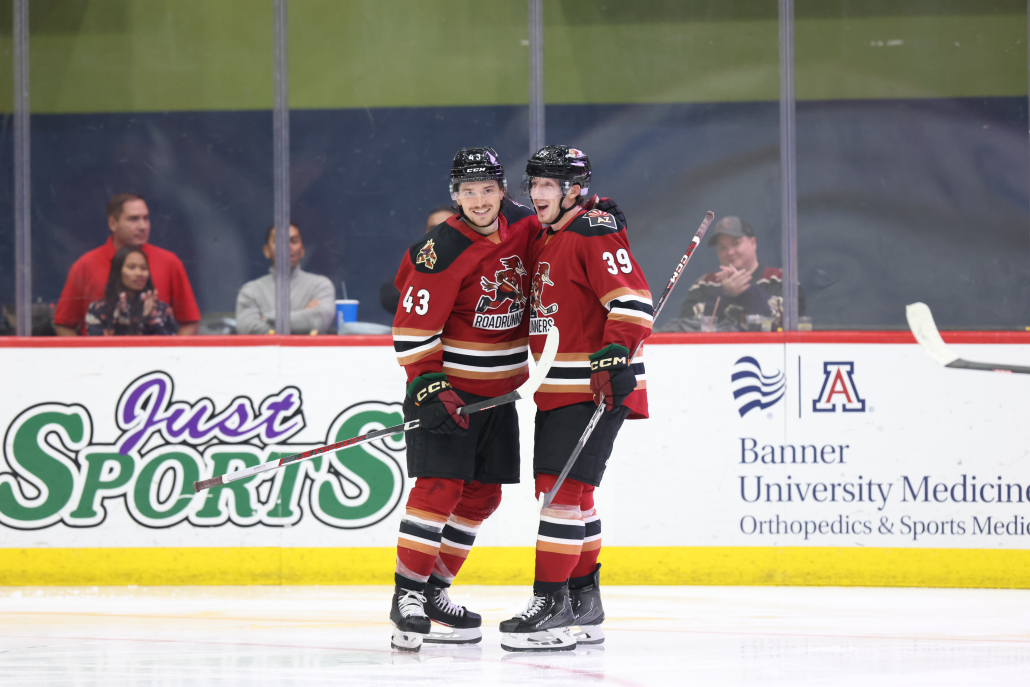 The Depth Is Rising:
With lots of changes to the team with injuries and call-ups to the Arizona Coyotes, the Roadrunners have had to rely on players who were not on the regular daily lineups when the season began. Forward Cameron Hebig, who has only played in seven games this season, is already up to five points and has scored all of those points including a short-handed goal on his current three-game scoring streak (3 goals and 2 assists). Defenseman Patrick Koch has also only played seven games and has scored a goal and has two assists while also providing a strong slap-shot from the blue-line. Other players such as Austin Poganski, Hunter Drew, Curtis Douglas and Montana Onyebuchi have stepped up in the lineup to provide the best chance for Tucson to win. Defenseman Peter DiLiberatore and forward Reece Vitelli were also recently called up from their respective ECHL teams to provide support.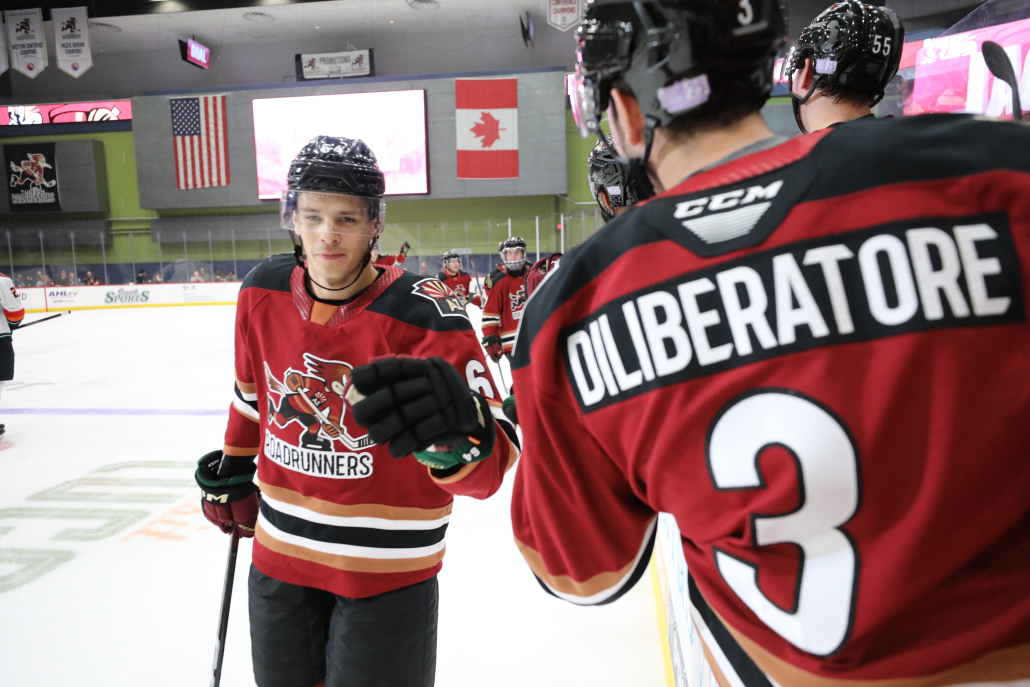 Recent Transactions:
On Monday, Nov. 13, Milos Keleman was called up to the Arizona Coyotes (NHL).
On Wednesday, Nov. 15, Vlad Kolyachonok was called up to the Arizona Coyotes (NHL).
On Friday, Nov. 18, Jan Jenik was called up to the Arizona Coyotes (NHL).
On Saturday, Nov. 18, Reece Vitelli was called up to the Tucson Roadrunners (NHL).
The Best In The West:
In their upcoming road trip, the Roadrunners will face teams who currently have eight or more wins in the Pacific Division. Six of the 10 teams in the entire division have a .600 winning percentage or better. This Includes Calgary's 11-2-1 record (23 points) which is second in the AHL. To put that into perspective, only one team in the Central Division, the Texas Stars, has a winning percentage of .600 or better. In addition, the two divisions in the Eastern Conference, the Atlantic and the North, each have four teams with a .600 winning percentage or better.
December Promos:
In the month of December, the Roadrunners will be hosting six different theme and promotional nights which will be Laugh Night presented by 102.1 KFMA on Friday Dec. 1, Anime Night on Saturday, Dec. 2, Rudy's Texas B-B-Q Family Packs offer on Friday, Dec. 15, Teddy Bear Toss presented by TEP on Saturday, Dec. 16, Rudy's Texas B-B-Q Family Packs offer again on Friday, Dec. 29, and Star Wars Night on Saturday, Dec. 30.  The Roadrunners will be returning home on Friday, December 1 for Laugh Night against the San Jose Barracuda where a Postgame Comedy Showcase, will be free with a game ticket scheduled to feature Chris Quinn, Holly Hilton, Omar Tarango, Allana Lopez, Jen Blanco, and Dom DiTolla. A food drive partnering with Impact of Southern Arizona will be present to collect one-pound packages of pasta, veggie cans, tuna cans, peanut butter – small jars, tomato cans – any variety (sauce, diced), soup cans and cereal boxes or bags. The following game against San Jose on Saturday, Dec 2 will be Anime Night. This theme night will include featured entertainment, themed art on display and local Anime vendors. Fans can come dressed as their favorite Anime character if they please. CLICK HERE to purchase an Anime Ticket Offer that includes a t-shirt.
Extended Edition Of Happy Hour:
Tucson Roadrunners Happy Hour airs every Tuesday at 5 p.m. on FOX Sports 1450AM and the iHeartRadio app, with a podcast version also available after each episode on the iHeartRadio app. This week will be an extended edition where the "Voice of the Roadrunners" Adrian Denny, live from the Saddledome in Calgary will be joined with co-hosts Kim Cota Robles and Brett Fera and Roadrunners Captain Steven Kampfer. The show will run until Roadrunners warmup hosted by Jonathon Schaffer at 6:45 p.m. MST between the Roadrunners and Calgary Wranglers. In addition, a new episode of the Tucson Roadrunners Insider Podcast released on Sunday, as Adrian Denny and Jonathon Schaffer recap the Coachella Valley series and discuss which players and coaches would go Black Friday Shopping this weekend in Las Vegas.