Lauren Ramsay


Princess Kate and Prince William visited the Hayes Muslim Centre to greet fundraisers, and her recycled monochrome outfit proves why investing in quality capsule pieces is a must – read more

Though modern royals are regularly commended for their commitment to the planet by outfit repeating from their stellar capsule wardrobes, nobody does it quite like the Princess of Wales.
Princess Kate and her husband Prince William visited the Hayes Muslim Centre on March 9 to thank those who have fundraised for relief efforts for communities affected by the earthquakes in Turkey and Syria.
The ever-chic royal created a monochrome outfit wearing almost totally recycled pieces. And although she eschewed her usual 'something high-street' agenda, her look proved the power of a cyclical wardrobe, and why purchasing high-quality pieces that can stand the test of time, are worth the investment.
MORE: Princess Kate's houndstooth skirt is bang on trend for 2023: Get the look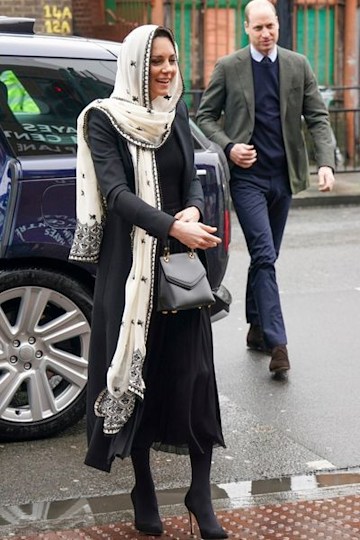 Princess Kate donned an outfit with items she'd worn before
Kate undoubtedly has the most enviable formal coat wardrobe on the planet – many of which are from the late Princess Diana's favourite designer Catherine Walker. Kate stunned in a long black tailored coat from her impressive collection.
Although she chose not to wear an Alexander McQueen coat as she does often, her favourite brand was not too far away, as she wore an elegant sleeveless dress from the brand underneath her coat, the same combination she was spotted out in during the mourning period for the late Queen Elizabeth II.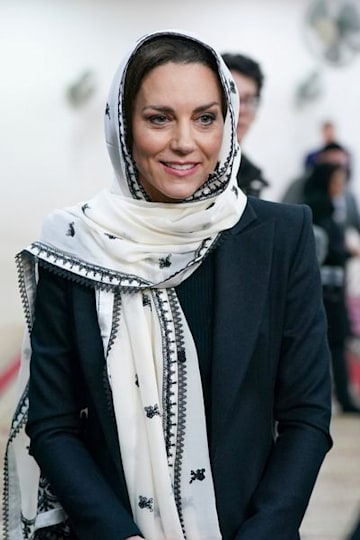 Her stunning dupatta was the only new item
READ: Get the look: Princess Kate recycles elegant wardrobe staple at "green energy" meeting
MORE: Princess Kate's Zara earrings have sold out: Here are 5 stunning similar pairs to get her BAFTA look
The stunning dress boasts a flattering, ribbed top, tiered fabric around the midriff and an A-line pleated skirt that falls above the ankle – we know that Kate is bang on-trend with her current A-line silhouette agenda, so here's 5 that you can shop to get her look.
The only new item she donned for the outing was an elegant monochrome dupatta (a scarf worn over head and wrapped over the shoulder by South Asian women) from Pakistani brand Elan. The design was taken from the 'Royal Garden' Kurta (a loose collarless shirt) she wore in Pakistan in 2019.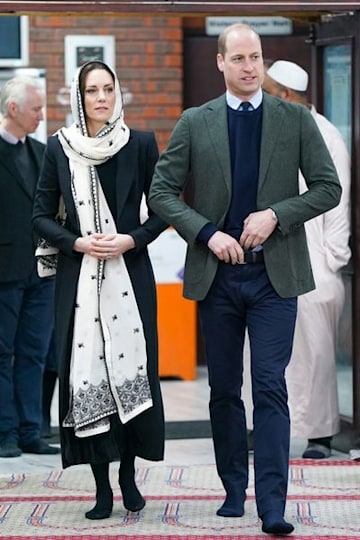 The Prince and Princess of Wales at Hayes Muslim Centre
She paired the elegant ensemble with a pair of trusty Gianvito Rossi pumps, – she owns a whopping 18 pairs of shoes from the designer according to royal fashion stan site katemiddletonstyle.org – and her chic black 'Love Letter' bag from independent London-born brand Grace Han. We first saw her wear the bag with a red Alexander McQueen coat during a surprise outing in October 2020.
Though our sartorial agenda's sometimes long for some dopamine-inducing or trend-led  pieces, Kate's stellar capsule wardrobe proves why investing in quality staples is an absolute must.
Like this story? Sign up to our Hello! Fashion newsletter to get your weekly 'Fashion Fix' delivered straight to your inbox.