Preston Brown realizes that little brother should always take the blame.
So the Hillsboro High junior quarterback gallantly accepted responsibility for a mixup on a handoff in the second half of the Hawks' 48-35 win over Pacific on Friday in a Class 4 state quarterfinal.
Senior running back Payton Brown did not get a full grip on the ball as Preston turned to give it to him.
The bobble fell to the turf and Preston pounced on it for a short loss.
"Since I'm the quarterback, it was my fault," Preston said. "I should have moved closer to him."
The miscue was one of the few times all season the Brown siblings were not in perfect harmony.
Payton leads the area with 32 touchdowns. He has rushed for 1,380 yards on 126 carries this season, an average of 11 yards per tote.
The 6-foot-1, 215-pound bruiser has accounted for 196 points, the majority of which have come with help from his little brother.
Preston can almost match his brother's gaudy statistics with 28 touchdown passes and 13 rushing scores.
The firm of Brown and Brown has propelled the Hawks to astronomical heights.
Hillsboro takes an 11-1 record into a Class 4 state semifinal game against Lutheran North (11-1) at 1 p.m. Saturday in the Jefferson County seat.
The dynamic duo has had a hand in 70 touchdowns while amassing 4,254 all-purpose yards.
Payton was almost unstoppable in the biggest game of the season Friday. He ran for 247 yards and scored five times. The Southeast Missouri State University verbal commit ran for two first-quarter touchdowns. He returned a kickoff 86 yards for a TD in the third period before sealing the contest with a 34-yard scoring gallop with just 93 seconds left.
That type of eye-popping performance has been commonplace this season. Payton has rushed for 108 yards or more in six games.
"He's just a strong physical kid who's tough for defenses to match up against," Hillsboro coach Bill Sucharski said. "Obviously, we want to try and get the ball in his hands as much as possible."
Payton, who also starts at linebacker, is enjoying his breakout season even more with his brother at the helm of the offense.
"Seeing him run down the field, watching him break off a big run, it's just gets me excited every time it happens," Payton said. "It's awesome, I love it."
The two have been playing football since grade school, although they weren't normally on the same team until high school due to the one-year age difference.
Like most brothers, Payton and Preston are highly competitive. And they have been through their share of sibling brawls.
"They were wild boys," said Mindy, their mother. "One hit the other with a golf club one time. There were always a lot of bloody foreheads."
Now, instead of swinging irons, the two use their rivalry to push each other to a higher level.
"From time to time they'll get at each other," said Hillsboro senior Chase Sucharski, a two-way starter who has 28 catches for 620 yards and eight TDs. "For the most part, they end up staying calm and just moving on to the next play."
Hillsboro won its first seven games before dropping a 34-21 decision to defending Class 3 state champion Cardinal Ritter, which has reached the final four in Class 5.
The Hawks turned in a solid second half performance after falling down by three scores early in that contest.
That rally against a strong, seasoned opponent gave Hillsboro a shot of confidence that has resulted in a four-game winning streak. It has racked up 181 points during the run.
"We've kind of honed in a bit," Payton said. "There's still some stuff we have to fix assignment-wise, on both sides the ball. But skill-wise and teamwork-wise, I think we're much better."
Hillsboro, which is 30-5 over the last three-plus seasons, is looking to reach the state championship game for the first time in school history.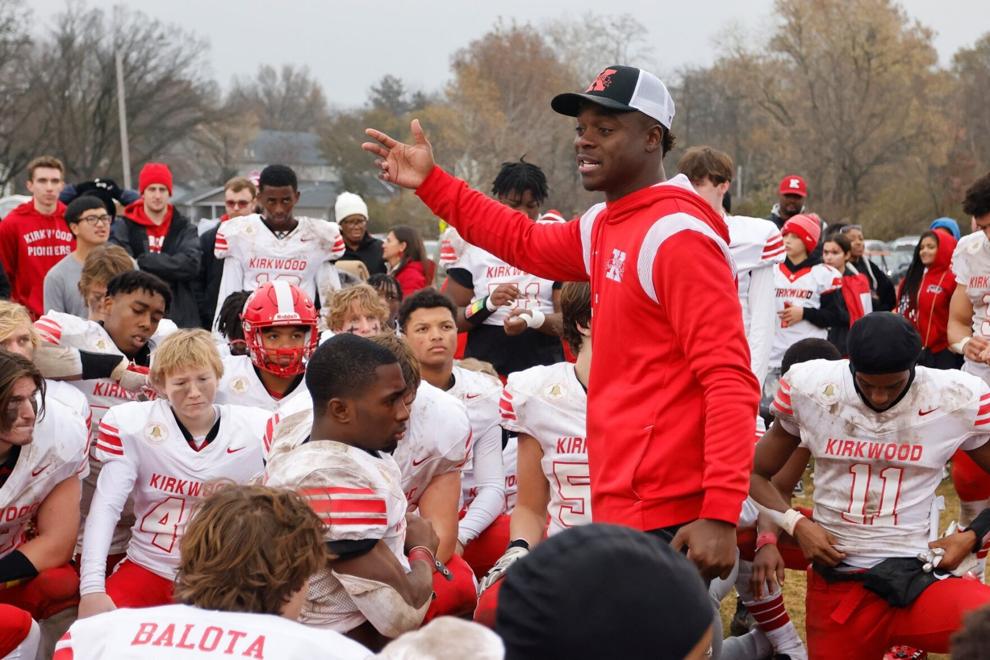 Turkey Day tradition rolls on
Kirkwood and Webster Groves will meet again on Thanksgiving Day in the 118th battle for the Frisco Bell.
The holiday series first began in 1898 and has been held almost every year since. There was a four-year hiatus after an on-field melee following the 1923 contest. The game was not played in 2020 due to the COVID-19 pandemic.
Kirkwood (6-3) is searching for its 10th successive win, the longest winning streak in the history of the series.
Webster Groves (3-6) has not won the Turkey Day affair since 2012, when the junior varsity teams faced off because Kirkwood was in the state championship game. The Statesmen last won a Turkey Day varsity game in 2008.
The contest, set for noon Thursday at Kirkwood High, is more than just a football game. It serves as a celebration of pride and spirit for both neighboring communities.
The coveted Frisco Bell was donated by the Frisco Railroad Company in 1952.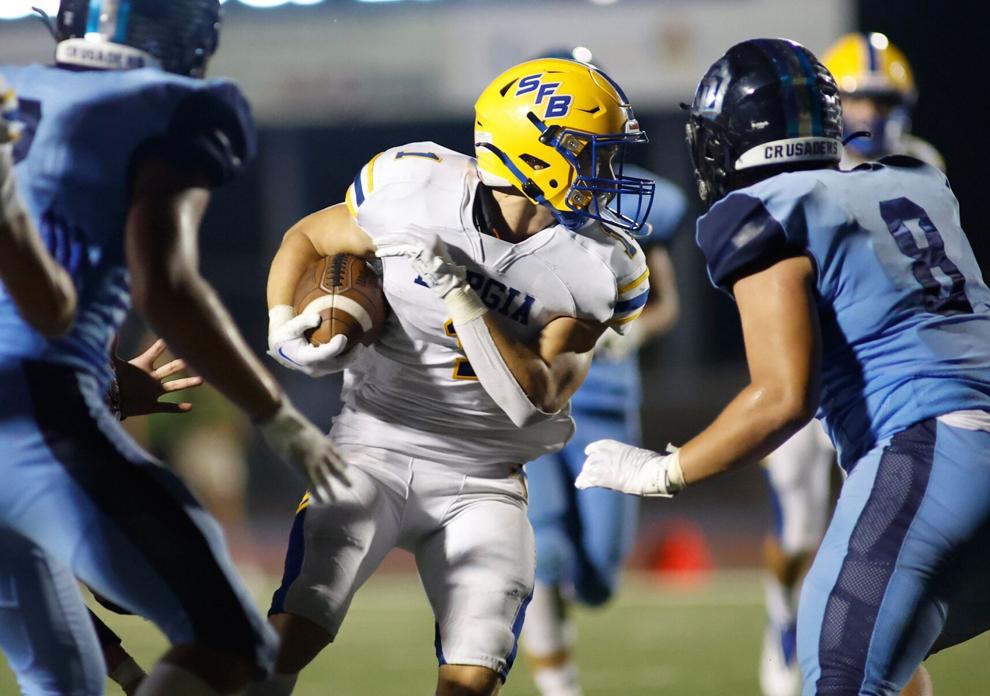 Borgia comes up short
The Knights' chase for a second state championship came to an end Saturday afternoon at Park Hills Central.
The hosts reeled off 26 unanswered points in the second half to record a 50-28 win in the Class 3 quarterfinal.
Borgia took a 28-24 lead on a 1-yard run by Hayden Wolfe midway through the third period. Those were the last points for the Washington-based school.
Park Hills Central put the contest away with a pair of pick-6s in the final five minutes.
Wolfe rushed for 103 yards on 18 carries.
Borgia was looking to win a title for the first time since the 1993 team took the Class 3A state championship. It was also searching for its first semifinal berth since 2007.