It's been a busy March so far for the Princess of Wales, following a lively February, and an active January. Last Thursday she was at a Muslim centre in Hayes, west London, paying tribute to fundraisers for the earthquake victims in Turkey and Syria, and the day before on exercises with the Irish Guards on Salisbury Plain.
The visits presented two superficially contrasting images – one in headscarf, the other in army camouflage – but she could equally have been attending a space station and a yoga centre, and would no doubt have produced the same picture of smiling earnestness.
Such photographs have become a commonplace on newspaper front pages in recent months, accompanied by glowing reports of an uncomplicated, unshowy and selflessly loyal royal. There have been photo opportunities with the Welsh Guards in Windsor, a spin class in heels in Port Talbot, a visit to a drug rehabilitation centre, and to the England team's dressing room after they beat Wales, the nation of which she is princess.
This is the kind of work, of course, that members of the royal family have performed for decades, but not normally with the degree of media prominence that the princess has enjoyed this year. Not since her predecessor Diana's heyday at the Aids unit or on landmine walk has a female royal garnered such positive attention.
While Diana's daughter-in-law's handshaking exploits are too safe and formal to conjure that kind of iconography, she can't be faulted for her work rate. The Observer picture editor has received photographs from 21 different events featuring the princess since January 12.
The publicist Mark Borkowski says that "being tactical about visibility is a key craft of the publicist". While relentless positive coverage might seem desirable, he says, it also leaves the "sword of Damocles" hanging over the subject's head.
Between the whistlestop schedule that Kensington Palace has put together and the willingness of a significant section of the press to plaster the princess's progress across its pages, it almost seems like a coordinated PR campaign. Or perhaps a counter-PR campaign, one constructed with the specific purpose of neutralising a less conformist message disseminated by the Wales's arch-enemies, the Sussexes.
Ever since the Duke of Sussex launched his global multi-media denunciation of his family (and the press), with a December Netflix documentary series and the January publication of his damning memoir Spare, the Windsors have been waging a battle to regain control of the narrative. Not by responding to the duke's lavishly remunerated primal scream, but by presenting an image of quiet resolve and understated devotion in as many media outlets as possible.
It seems that the person chosen to embody these stoical qualities, leading up to King Charles's coronation, is not the king himself, a man whose equilibrium cannot survive a leaking pen, nor his heir, William, who, according to his younger brother, is possessed of a dangerously volcanic temper. Instead the face of all that is good and constant, determined and calm, is the saintly Kate, an angel in combat fatigues, a heroine in a hijab.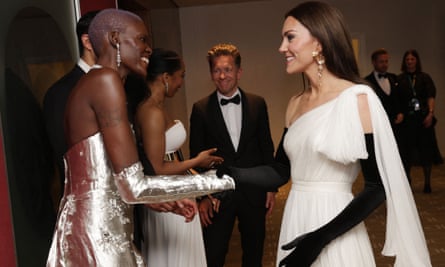 As Lieutenant Colonel James Aldridge, commander of the 1st Battalion of the Irish Guards, said last week, speaking for women who were not in a position to voice an opinion: "It is particularly fitting on International Women's Day that a few of our female soldiers met such an inspiring female role model." Perhaps they will all be motivated to meet princes.
It rather feels like a genteel but not exactly subtle form of propaganda, a steady supply of handpicked events in which the Princess of Wales is able to remind us just how much she is not the Duchess of Sussex. Needless to say, there are plenty of people who are only too happy to be reassured of that fact – they're just not the constituency the royal family needs to win over.
Borkowski thinks that the princess's team "has a honeymoon period up to the coronation. After that, who knows?"
In this manufactured image contest, the princess is the continuity candidate, the last word in highly visible silent duty.