Sakine Nur Gül unfurled a worn piece of squared paper on which more than a dozen hospitals across south-east Turkey were listed in blue biro, a grim roll call of everywhere she and her brother have tried to find their missing family members. Next to the words "intensive care unit" and "morgue" are the names of every single state and private hospital in the capital, Ankara, the southern cities of Adana and Mersin, and many across the province of Hatay, accompanied by delicate crosses showing where Gül, known as Nur, and her brother Ertuğrul Delen have already searched and found no trace of their parents and brother.
"We went to hospitals that aren't even on that list. I think we've been to every single hospital in Hatay," said Ertuğrul. At a cemetery on the outskirts of the southern city of Antakya, where a field of hundreds of sticks mark the graves of many unidentified corpses, the siblings scoured photos of the dead and found nothing. A DNA test brought no matches among the bodies there or elsewhere.
One particular visit to a facility in Mersin stuck out. "The woman behind the desk at the hospital realised she'd seen me before, and asked me why I'd come back," she said, astonished. Nur explained she was looking for her missing family. "It's too early to conduct this research," the official told her dismissively.
Like thousands of others, Nur and Ertuğrul say they are in a race against time to find their missing relatives, even recruiting distant family members to check hospitals in their towns across the country to see if their family members are there.
The search has consumed their every waking moment since two powerful earthquakes destroyed their family home in central Antakya in early February. Nur and Ertuğrul rushed from Nur's house on the Aegean coast to the flaming wreckage of what was once the eight-storey İlke apartment building where Ertuğrul and their family lived. The siblings camped out for a week in front of the destroyed building, burning pieces of kitchen cupboards to stay warm and hoping that rescue workers would eventually extract their father, Ismet Delen, their mother, Canan, and their younger brother, Efe, from the rubble.
The Delen siblings watched as rescue workers pulled people from the wreckage, 14 of them alive. Forty-two bodies were also recovered, some badly burned and requiring DNA testing to identify them. Relatives of another 28 people, including the Delen family, paid private machine operators to comb through the wreckage of their home on Emerald Street three times to try to find a trace of their missing relatives, and watched frantically as a team of German rescue workers combed the site with sniffer dogs and thermal equipment to search what remained of the collapsed building.
"They couldn't even find a bone from one person, never mind 28," said Ertuğrul, who at one point even searched the area that was once the basement of the building himself to check the foundations. A week after the earthquake struck, the Delen siblings left to begin searching hospitals, morgues and cemeteries.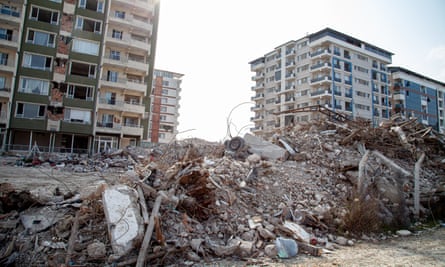 A month after the earthquakes wrecked homes and lives across south-eastern Turkey and northern Syria, leaving a scar of devastation across a broad strip of land and killing more than 50,000 people, relatives of the missing wander among the wreckage and fields of mass graves to find the thousands who remain unaccounted for. No evidence of their bodies was found among the debris of what was once their homes, and ambulances carried the injured to any hospital beds that were available across the country, with some potentially transported to distant larger facilities for treatment. Posters showing portraits of the missing with calls for anyone with information to get in touch line public squares from the central town of Kahramanmaraş to cities across Hatay.
Mehmet Güleç says he spends his nights wandering the streets of İskenderun unable to sleep, haunted by the hunt for his brother Mustafa. Since the earthquakes razed Mustafa's apartment when the adjacent building tilted sideways and crushed both, killing at least 25 people, his family have charged Mehmet with guarding the rubble while his parents scour hospitals searching for any trace of his brother, a promising 24-year-old who intended to become an architect.
"There are a lot of families in this situation, a lot of people like me," said Mehmet. "Some of the people who came to rescue their relatives said, 'We heard Mustafa's voice, we took him out and we sent him to a hospital in Adana.'" Their father began searching hospitals in Adana, Mehmet said, travelling as far as Istanbul in the far north of Turkey and stopping at every medical facility along the way to hunt for evidence of his missing son.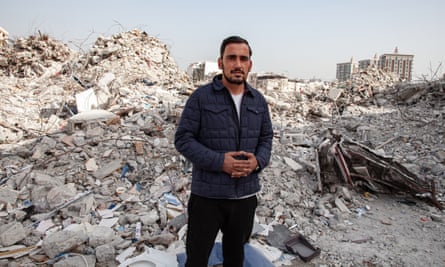 As his parents continue their search, Mehmet waits with other families in front of his brother's building, leaving mainly to visit a local crisis centre where he begs officials to move the rubble of Mustafa's home. He described his frustration at being forced to pay private contractors to sift through the debris various times to check for missing people, each time finding nothing. Mehmet's plea to move the rubble has become his primary obsession, the only way he feels he can help his missing brother. "I'm staying here to see them clear the rubble again so that I can be completely sure he's not there," he said. "I am 99% sure he's not there, but I want to be 100% sure."
A DNA sample the family provided in Adana has yielded nothing, and officials told them the results are yet to appear on the government's system. "They told us it's going to take a while," said Mehmet, bitterly frustrated with the official response to what many say is a widespread problem.
"The DNA sample is to see if my brother is dead, but I believe that my brother is alive," he said. "We have spoken to people at every level of government, even the mayor. But everyone says they can't do anything at the moment."
The search for their father, mother and brother occupies Nur and Ertuğrul's days, as they methodically return to hospitals across the south-east. They have returned so often to Adana City hospital, one of the largest in the area, that a month after the earthquakes, they are on friendly terms with the nurses at its large intensive care unit, who have carefully photographed each unconscious person or identity cards of those brought in, allowing the siblings to scroll through the hospital's makeshift database of unidentified people to see if they are able to spot their family members.
Nur remains baffled as to why the Turkish authorities have failed to create a database of missing people after the earthquakes, combining the troves of existing identity and medical data routinely collected with extensive property registration data to provide desperate families with a way to register their relatives as missing.
"Don't we have enough internet experts to do this?" she asked. "I've been searching for my family for more than 20 days and there is no information. There are people who stay in a coma for five years. Is it going to take five years for us to find our missing families?
"The health ministry needs to speed things up. My family could die somewhere out there, and I wouldn't know."